Dem Guise is a 5 piece band playing folk / roots / blues / and antique classic rock favorites we can't seem to give-up.
The band splits up into various configurations to fit in different venues across the tri-state.

MITCH AND JOSH - For the past 8 years this duo has run up and down the east coast from the Florida cays to Philadelphia. Blazing the trail for the rest of the band.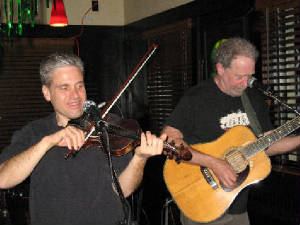 MITCH AND SCOTT - With the addition of Scott Matlock and his violin, this duo covers Dem Guise classic rock as well as folk, new grass, and some new originals.
Mitch and Scott generated some original material and put it on a CD. It includes Fadin Fast, The Flag Bearer, and other tunes we play at the shows. As we get ready to record our second CD, we're closing out the first offering. If you don't have one now is the time!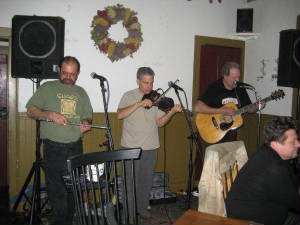 MSN
Mitch, Scott, and Neil have found a niche in the Carlisle area thanks to Neil and his SHARE organization folks who come out and support. Of course the newest Dem Guy, Mike Davis, has joined in with his mandolin.